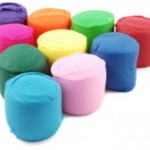 What can become a piece of playdough in the hands of a child? It is always a very creative and interesting improvisation!
Playing with playdough is not just a game it's much more. It makes children think, fantasize, invent and implement their own creative designs.
With greatest pleasure kids build various figurines of animals, learn to mix colors, experiment and invent new toys. While working on a kitten, a doggy or a rabbit children can create their own world, not the virtual one, as popular these days, but the real one, built with their own hands. And this world will be filled by different kind of animals and objects that most of the time live only in child's imagination.
What you can do with playdough.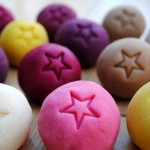 * Manipulate the dough with your hands. Try shaping, pinching, poking, patting, pulling and rolling. Make figurines, animals, food models and other objects.
* Shape and texture dough with simple tools, such as a rolling pin or dowel, combs, pencils and plastic utensils, or press into the dough with textured surfaces.
* Experiment with mixing colors. Start by mixing two of the primary colors (red, blue, and yellow) together to make secondary colors (orange, green, and purple).
* Use plastic knives and scissors to cut shapes from a flat slab of dough that has been rolled out with a dowel or rolling pin. Add texture and/or firmly press other shapes onto slab cutouts to decorate them. Use a pencil to open hanging holes at the top of ornaments, pendants and medallions that will be allowed to dry.
* Embed 3-D objects such as buttons into the dough pieces that will be allowed to dry.
* Make coils by rolling out snake-like pieces of dough on a flat surface or between your hands. layer the coils and press them snugly together to build pots and other compact structures.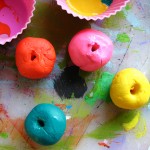 * Create beads. Roll pieces of dough into balls or cut a coil into equal size pieces. Flatten, texture or roll coil pieces into balls if desired. Use a pencil or nail to open large holes for stringing, then allow beads to dry thoroughly before stringing on yarn. make multi-colored coils by rolling two or more dough colors together. Use as suggested for coils or beads.
* Combine dough beads, forms and coils to make designs, ornaments, and pendants. Use a pencil to open a hole at the top if ornaments and pendants. After piece dries, string it on ribbon or yarn.
Playdough Recipes
There are different ways to make playdough. Trying to make some instead of buying can be as much as fun as creating with it afterwards.
1. Playdough
1 cup flour
1 cup water
1 Tblsp. oil
1/2 cup salt
1 tsp. cream of tartar
food coloring
Mix ingredients in a sauce pan. Cook over medium heat until mixture pulls away from sides of pan and becomes doughy in consistency. Knead until cool.
Not edible! Can be used over and over again. Store in air tight container. Keeps 3 months unrefrigerated.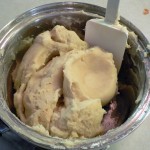 2. Gingerbread Dough
2 cups flour
1 cup salt
2 T ground cinnamon
1 T ground cloves
water (about 1 cup)
Mix everything together. If making ornaments for Christmas time, have the children form the dough into desired shapes or use cookie cutters, then lay them down to dry.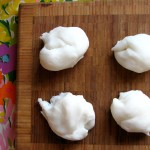 3. Cloud Dough
1 cup vegetable oil
6 cups flour
1 cup water
food coloring
Add food coloring to water. Put the flour and oil into a large bowl. Slowly add the water, stirring as you pour. Continue mixing the ingredients until a soft dough forms. Add a little more water or flour if necessary. Knead until completely blended.