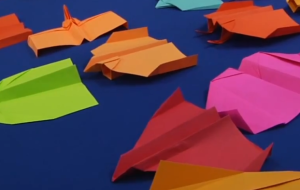 Do you remember when you first learned how to make paper airplanes? I do! It was so exciting! We made like 10 of them. Decorated each one with markers and then went to the balcony to see them glide! And they did, well for a little while 🙂
Today, I'm teaching my boys to make paper airplanes. We have paper and markers ready. We will each make 5 and then later take them outside for a competition "who's airplane stays the longest in the air". The winner gets a special treat! 🙂
I've listed 5 videos with 5 different airplanes to build. You can really dress up these airplanes by trying different color paper for every airplane. Or you can make your own airline. For example, give your airline a name, think of a name for each airplane, think of the symbol or a flag that will be on the tail or wings of each airplane, and colors that will distinguish your crew from your friends.
To make them more durable you can spray them with hairspray, it will allow the airplanes to hold its shape and not get dirty. If you have girls (yes, girls also love to make paper airplanes) you can use really bright colors like pinks, yellows, reds and use sparkle hairspray.
The weather is great so we can have some fun crafting then playing outside. Why don't you join us for this awesome activity!
Paper Airplane 1
Paper Airplane 2
Paper Airplane 3
Paper Airplane 4
Paper Airplane 5