Disney's Frozen has been a hit this year. You can't ignore the fact that this cartoon is really one the best. So not only girls but also boys are raving about it. My two boys saw the movie a few times and each time they discovered something new and cool about it. The song has been blasting around the house as well. I can definitely say that Frozen will be the most popular party theme this year and the years to come. Looking ahead, I created a very long post collecting all the possible fun ideas to make Frozen Birthday Party a hit. (Feel free to browse through my other BIRTHDAY PARTY IDEAS.)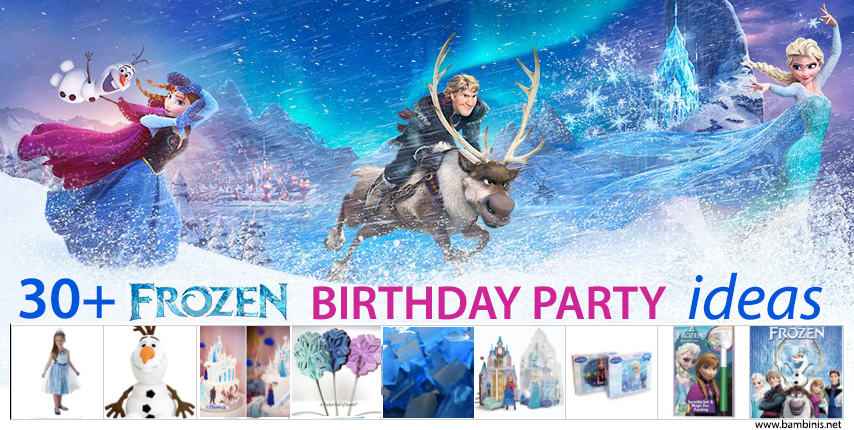 I broke it down into few section for an easier navigation. Please, fill free to browse and pin these wonderful Frozen Birthday party ideas.
PARTY ACTIVITIES 
Party activities is a very important part that is worth mentioning, since the main idea at the party is for the kids to have fun. Without some fun games and activities, no matter how gorgeous your decoration are, party will not be a hit. So here's a list of some ideas to entertain the kids.
Print out enough of these 6 free printables ahead to give out to kids at the party. These will keep kids occupied and entertained for quite some time.
Coloring Pages
Spot the Difference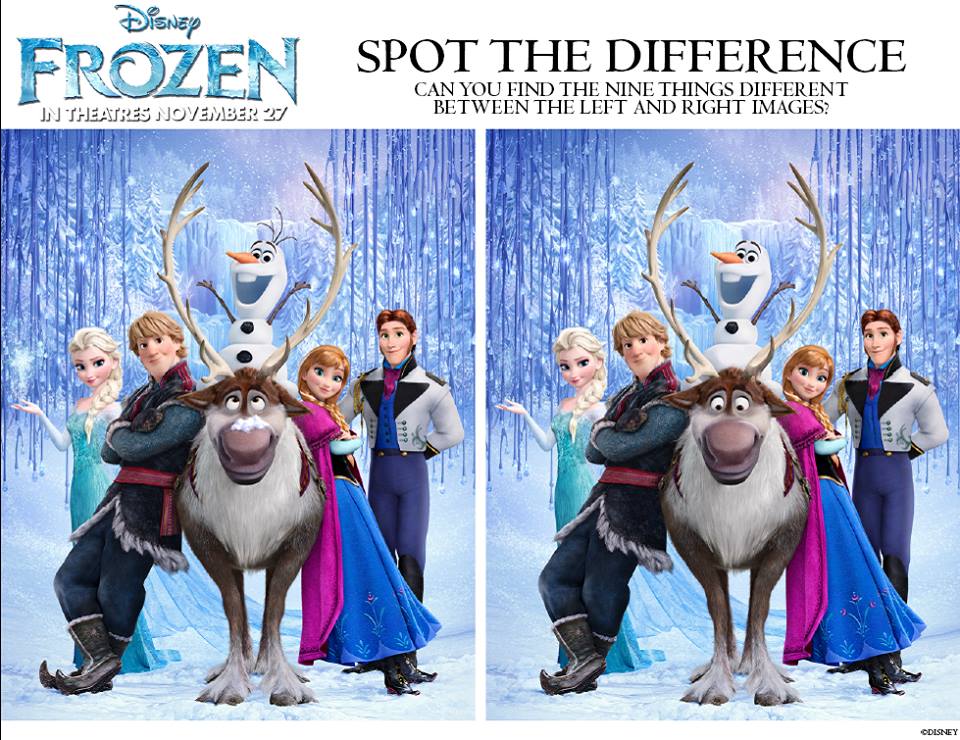 | | |
| --- | --- |
| Olaf Printable | Snowflake Printable |
Build Olaf

Give out each child white play dough to make Olaf. Use orange, black and brown play dough for decorations. See who gets the best looking Olaf.
Snowball Fight With Crumpled Up Paper
Crumble up some white paper and let kids have a fun fight.
Make Tiaras
Give out craft supplies to create beautiful tiaras for girls to wear at the party and to keep.
Sven Antlers
Give out craft supplies to create antlers for the boys to wear at the party and to keep.
Diamond Ice Bracelets.
Get a bunch of clear glass or plastic beads and have the party guests string them on elastic thread to make bracelets.
DRINKS & SNACKS
Frozen Theme Cake
This beautiful cake will be the center of attention on your sweet table. (Credit: PrettyMyParty)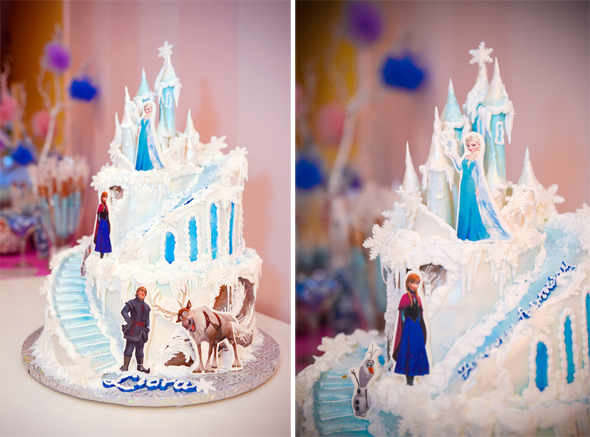 Olaf Noses

Olaf's nose is made out of carrot. Put baby carrots or just regular carrots in a bowl as a snack.

Olaf Hands

Olaf's hands are sticks. Pretzels will be a great substitute and a delish snack for the kids at the party
Marshmallow Pops

These are very simple to do. All you need is marshmallow, craft sticks, white chocolate and color sugar. Follow the instructions here to create these. (Credit: AroundMyFamilyTable)

Rock Candy (white or blue)

These rock candy are a total must for the Frozen party. You can make them yourself by growing sugar crystals but it takes a very long time. It's easier to just buy them.
Kristoff's Ice Cubes

Make Kristoff's ice cubes with blue jello. It will look very pretty and your guest will love it.

Snowflake lollipops

These lollipops will be a great addition to the Frozen theme.
Blue Punch
Serve Hawaiian blueberry punch in the big clear bowl and add ice cubes in the shape of snowflakes.
PARTY DECOR
Make your party memorable with these Frozen theme decorations.
Printable Frozen Party Invitation
Invite your guests with these fun movie ticket invitations. (Credit: RookNo17)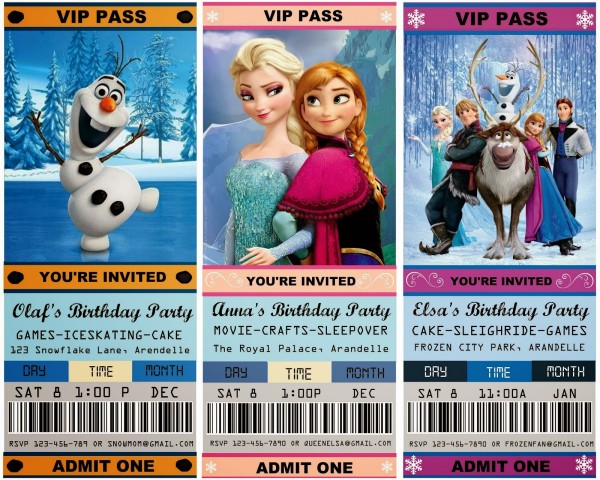 Disney Frozen Party Supplies
This Frozen party supplies pack includes plates, cups and napkins for 16 guests.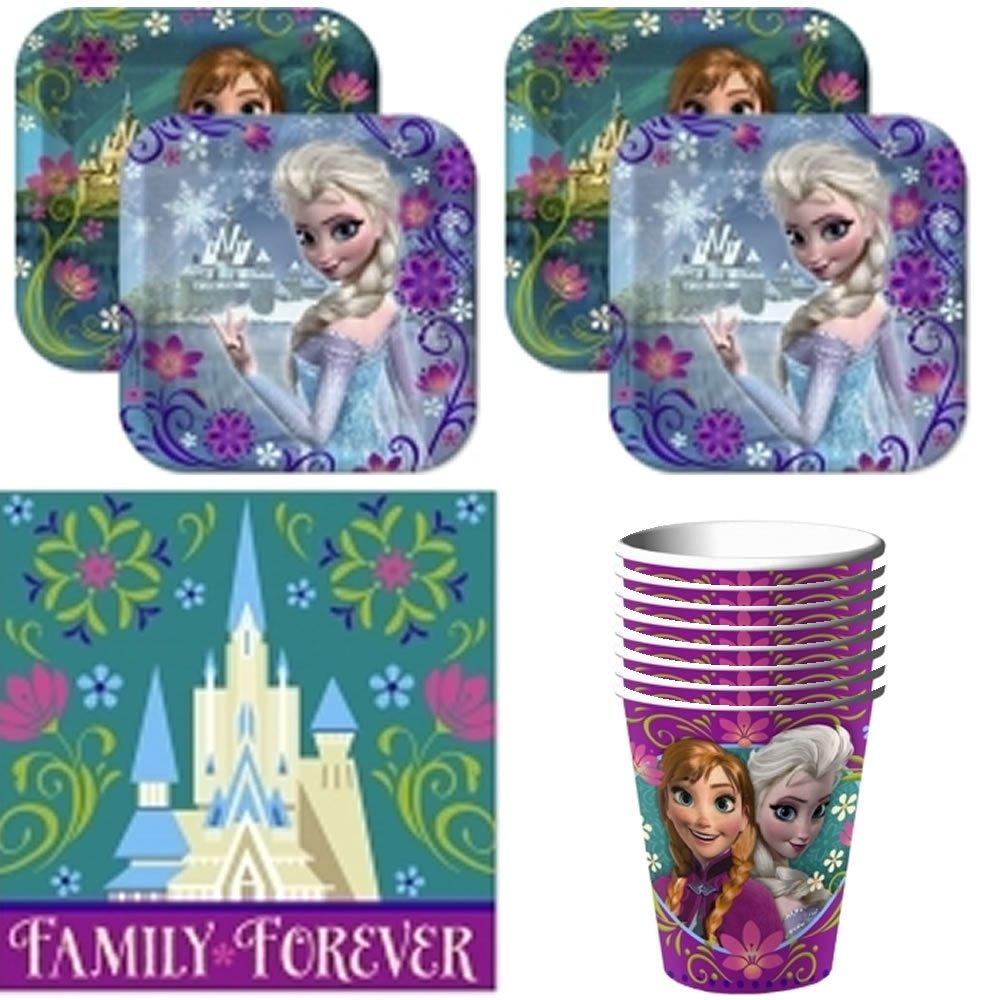 Snowflakes

Make white, blue and silver pipe cleaner snowflakes and decorate walls with them.

Marshmallow Garland

Make this snow garland using big and small marshmallows threaded onto a white thread. It can be a very festive decoration for your walls.
DRESS UP COSTUMES
If your little ones love to dress up, these costumes will be perfect for your party.
Disney Frozen Enchanting Dress – Anna

This beautiful costume is for Anna character.

Disney Frozen Enchanting Dress – Elsa

This enchanted and absolutely gorgeous costume is for Elsa character.
PRESENTS & PARTY GIFTS
These Disney's Frozen gift ideas are perfect for this Frozen theme birthday party. Add them to your Wish list and let your kids enjoy these wonderful presents.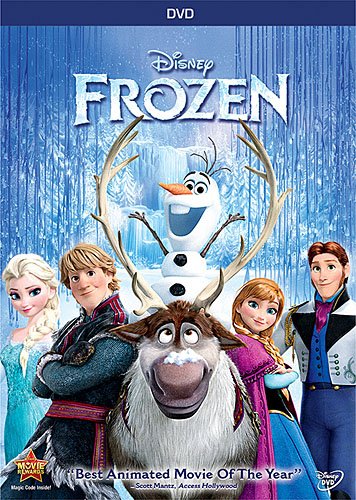 If you enjoyed this post, feel free to browse through my other BIRTHDAY PARTY IDEAS.