Today we are going to create a kitty from different colors of play dough. You will need 5 colors: yellow, orange, pink, black and white. You might want to use playdough tools to help you shape it.
1. Head and Ears

Roll two orange circles the size of a small pea for ears and one big yellow circle for the head. Squish the two orange circles into triangular shape and attach them to the yellow circle (the head).

2. Nose and Cheeks

Roll small pink circle (nose) and two orange circles a bit bigger size (cheeks). Put two orange circles together so that they are touching and attach the pink circle on top in the center. Now attach nose and cheeks to the the head of the kitty, the way it's displayed on the diagram.
3. Eyebrows

Roll two very little pink circles. Roll them into thin strips and give them the shape of the eyebrows. Attach them to the upper part of the head leaving beneath a space for the eyes.
4. Eyes and mouth

Roll two small orange circles, two white circles a bit bigger in size(eyes) and two tiny black circles (pupils). Roll the two orange circles into two strips and then flatten them (eye lids). Attach the two tiny circles to the white circles and attach that to the orange eye lids. Now attach the eyes combination to the kitty's face right below the eyebrows.
Use a match to dent a little mouth underneath the nose and cheeks.
5. Body

Roll a big orange circle and a bit smaller yellow one the way it is on the diagram. Transform the orange circle into an egg shape (body). Transform the yellow circle into a cone shape and flatten it (chest). Attach the yellow part onto the orange body. Put a toothpick into upper part of the body and attach a head onto it.

6. Paws and Tail

Roll four yellow circles (paws), one orange circle the size of a big pea (tail) and sixteen tiny pink circles (pads). Roll long sticks out of the yellow circles (paws) and long stick out of the orange circle for the tail. Flatten one end of each yellow stick and transform the orange stick into the shape of a tail. Attach four pink circles to each flattened end of the four yellow sticks.
Now attach the paws to the body of the kitty. Two hands go to the upper part and two legs go to the bottom part. Attach the tail to the back of the body.

Adjust all the body parts accurately and you have a very cute little kitty to play with!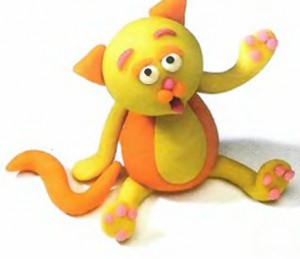 Click here to see how to make other playdough animals!