Here's another very creative gift idea for the upcoming Valentines – a ring with a heart. The size of the ring can be easily adjusted with the size of the paper. Make two rings, one for yourself and another for the one you love. If you want to make your ring extra special, you can make the heart using foil origami paper and the ring itself with a regular origami paper. The contrast between the two types of paper will let the heart stand out.


Instructions:

1. The length of the side of the square should be approximately equal to the size of the ring you are creating. Divide the square horizontally by 8 equal parts.
2. Fold and unfold the square to create a vertical crease.
3. Turn the paper over and fold top 8th part of the square.
4. Turn the paper back and fold top corners of the square down along the vertical crease.
5. Turn the paper over again and fold the top corner down until the 3rd horizontal crease.
6. Turn the paper over again and lift up the flaps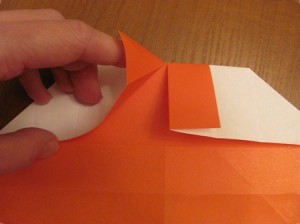 7. Bring the edges to align with vertical center.
8. Fold the bottom part 1/8th to the next crease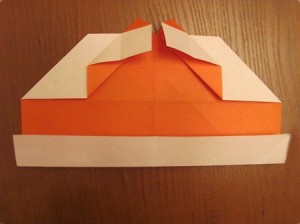 9. Fold the bottom part 3 more times. You will end up with a thick, narrow and sturdy line.
10. Curve the left and right side to form a ring and place them into pockets.
11. Fix it up a bit with your fingers and the ring is ready!
12. You can put your ring in a box like this for a very nice presentation.