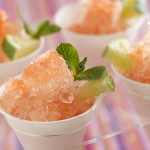 Snow cones is a perfect delicious frozen treat during these hot summer days! Why wait for the carnivals and fairs when you can make them yourself in the confines of your own home? All you going to need is paper cups, crushed ice, water and a healthy sweetener of your choice.
Instructions:
Crush the ice in the blender, pulsating it in batches. It should become a snowy consistency. Place crushed ice in a paper cup. Put 2 mangoes (peeled and chopped) and 1 pint of strawberries (hulled and sliced) into a blender. Squeeze in the lime juice and puree. Pour the fruit puree over the ice until you can't see any more white. Garnish with lime wedges and mint. Serve immediately.
TIP: If you blend the entire batch at once, it will keep its carnival consistency stored in a container in the freezer. Kids can serve themselves. Adding a little water makes it "slush". Stay cool and hydrated!
[tweetmeme] [like url=http://www.bambinis.net/craft/cooking/homemade-snow-cones/ action=like width=80 height=20]