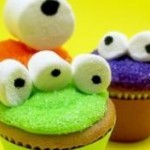 Halloween is approaching quickly. Next thing you know, it's your friends knocking on your door to go 'trick-or-treating' around the neighborhood. After an hour of walking outside and freezing under the thin materials of your costumes, you all decide to come back to your house for some warm tea. But with all the honesty, noone can even look at candy anymore. Here's where the cupcakes come handy. The tea is served and everyone is warm and happy!
With some sprinkles, marshmallows and an edible marker, it takes mere seconds to transform mini cupcakes into googly-eyed monsters. More cute than scary, these sweet monsters will brighten any Halloween dessert table. And this decorating idea is simple and easy for any crafty kid to make too.
Supplies
Mini cupcakes
Frosting
Mini cupcake liners or wrappers
Food coloring (orange, green and purple)
Sanding sugar or sprinkles (orange, green and purple)
Small, shallow bowls
Spatula or disposable decorating bags
Mini marshmallows
Regular marshmallows
Black edible marker
Helpful Hint: Choose any of your favorite cupcake and frosting recipes, or use store-bought. Find cupcake liners, decorating bags, sprinkles and the edible marker in the craft store.
Directions
Prepare your marshmallow eyes by using the black edible marker to make a dot on the flat end of regular size marshmallows and mini marshmallows. You'll need either one regular marshmallow or two to three mini marshmallows for each cupcake. Set aside. If you are displaying these cupcakes on a table at a Halloween party, draw dots for eyes on both sides of the marshmallows so the cupcakes will watch you from behind, too.
Prepare mini cupcakes according to the recipe and let cool completely.
Prepare frosting according to the recipe. Divide and tint orange, green and purple. If desired, fill a disposable decorating bag with each color and snip about ½-inch from the tip. Otherwise, omit the decorating bag and just use a spatula.
Top your cupcakes with orange, green and purple sprinkles in three separate bowls and set aside.
Working with one cupcake at a time, use the decorating bag or a spatula to pipe or spread frosting on a cupcake. Dip the frosted top immediately in a coordinating color of sprinkles.
Place the cupcake on a tray right side up, then place either a regular marshmallow, or two or three mini marshmallows on top of the cupcake, on their sides so the eyes look forward, pressing the marshmallows into the frosting. If necessary, use a dab of frosting to adhere the marshmallows.
by Meaghan Mountford